COVID-19 has undeniably been one of the biggest and most challenging events in our lifetime. It has changed our attitudes and behaviors alongside our evolving needs. And it will continue to change the way we work, think, socialize, move around, and go about our day-to-day lives.
But what exactly will the new normal after COVID-19 look like? Let's take a closer look at what we can expect.
Social and Public Behaviors
Humans are social beings. We all crave opportunities to be with others – being able to share meals, a drink, or do activities together.
Lifted restrictions, which have slowly begun in many cities, will keep going. This paves way for many establishments to reopen and serve as venues for long-awaited social gatherings. A major change will be digitized behaviors — making orders through QR codes, cashless payments, and bookings only — to limit unnecessary contact.
Additionally, people may continue following certain health protocols, like regular hand sanitizing, "elbow bumping," and wiping down items before use, as a habit or out of caution when outdoors.
People have witnessed the value of relationships with their loved ones. Many of us are eager to get back to our regular lives, but with new precautions.
Travel Habits
After months of monotony from being locked down — over a year even, for some — people are craving a change of pace and scenery. As such, travel has and will most likely continue to explode after the pandemic.
Many people are still focused on health and security, so domestic travel and short-term rentals are skyrocketing. In part, this will strongly benefit small, locally-owned businesses as people will be encouraged to explore their own backyard.
Travel and tourism companies will also adjust their measures to ensure that people remain confident and stress-free throughout their trip. Some have already started offering private experiences that allow travellers to socially distance, and the trend is set to continue on.
Similarly, extended stay experiences will likely surge. This is to accommodate international travellers who want to stay longer but still continue their virtual lifestyle such as work-from-anywhere and remote learning.
More importantly, individuals may be required to submit their vaccination certificates and other special registrations to enter a certain country.
Essentially, the comeback of travel — both domestic and international — has begun. And this will continue as more destinations start to open their borders and loosen their restrictions after the pandemic.
Local Communities
As a result of the pandemic, government officials are working with local communities and businesses to create sustainable areas that can help protect the health and well-being of citizens.
These stakeholders will aim to create more "green" jobs, invest in eco-friendly mass transit, expand bike lanes, widen pavements, and increase open spaces within urban settings. Cities may impose policies to empower people to walk or cycle to work to help both the environment and to keep themselves active.
Similarly, learning the importance of accessible, local amenities from last year's lockdown, 15-minute cities will rise. This will enable residents to get most of their necessities within short distances of their homes.  
The crisis also taught us that unequal access to education, healthcare, safe housing, sanitation, transport, and utilities have led to more COVID-19 cases. Officials will be tasked to create healthier, safer, and more equal communities in cities where there's an equitable spread of resources among all social groups.
Workplaces
Another major discovery brought about by COVID-19 is that people can work form home. While the WFH, freelancing, and digital nomad lifestyles were slowly on the rise, many were still skeptical of this possibility — until the pandemic proved them otherwise.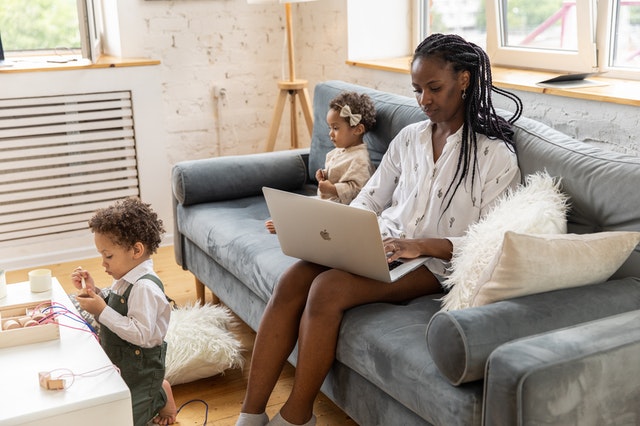 We can expect more employers to continue offering flexible working conditions to cater to both online and in-office set-ups.
Companies who are returning to in-person operations will adopt new health measures as precautions. We may see temperature checks and thermal imaging cameras in office entrances. Workplaces with communal desk spaces will have to reconsider that to reduce chances of virus resurgence. Some might even stagger the work shifts to avoid overcrowding within offices and reduce commuter traffic during rush hour.
On the other hand, staff are more likely to continue working from home as it has proved effective during the lockdown. Workplace expectations and culture may shift from having to sit behind the desk from nine to five to simply meeting the deliverables on time and in high quality.
In the longer term, combined office hours and remote work may be a rising trend for all companies. They may decide to skip leasing office space and allow employees to work remotely. When needed, a physical space or co-working area may be used, such as for team meetings or training workshops.
Career
Unfortunately, the pandemic left a lot of people unemployed. On the flip side, it has also sparked people's creativity and interests, which resulted in the increase of entrepreneurs and solopreneurs during the lockdown.
In fact, there are a lot of new businesses that opened during the COVID-19 season. From home improvement, pet care, and DIY home beauty products to gaming, fitness, and health, people have become more resourceful with their time and effort.
And this trend isn't going to slow down anytime soon.
Even after the pandemic, people will see the benefits and potential of being an entrepreneur. Online marketplaces, alongside the powers of social media, will continue to empower then-employees to jump into the entrepreneurship world. Many may look back into their childhood interests or pay attention to the needs of the current social climate to identify what solutions they can provide.
Ultimately, we can expect more innovative products and services, together with the increase in entrepreneurs, to arrive during the new normal.
Health and Well-Being
Seeing what the coronavirus can do to people, communities, and the whole world, people now have a greater focus on the importance of health, especially preventive health care.
We can expect more people consulting travel medicine services prior to their trips to ensure they're protected, wherever they go and whatever they do.
Similarly, more individuals are likely to stay updated with their physical exams, well-being exams, and vaccinations to help assure their overall health.
No one can truly predict when COVID-19 will completely end or what exactly will happen then. But one thing's inevitable: The way we live, socialize, move around, and perhaps even our priorities have permanently changed. While the crisis has had a negative impact on our lives, the new normal has also given us fresh perspectives that challenge us to be more cautious, compassionate, creative, and resilient.
If the new normal has sparked the entrepreneurial spirit in you, you might enjoy my blog on the entrepreneur skills you need to succeed in business.