Society has thankfully, finally, made a concerted effort to destigmatize mental health. And with that has come an improvement in the accessibility and affordability of therapy. While in-person treatment is still an option, we're seeing a notable increase in online therapy, particularly with coronavirus making in-person treatment so much more difficult. Importantly, though, we must ask ourselves: Can online therapy replace in-person mental health treatment?
Let's look a little more closely at the pros and the potential drawbacks.
Online Therapy: Where it Excels and How it Could Improve
There is undoubtedly promise when it comes to getting help with your mental health online. However, like just about anything in the digital realm, there are potential pitfalls and drawbacks. Let's look at both sides of the story.
Pro: When Online Therapy is Offered Online, it's Immediately More Accessible
If you don't have a mental health clinic close by, you don't have a way to get there, or a physical or mental limitation is preventing you from getting there, online therapy can be a good alternative. All you need is an internet connection. This makes mental health help literally just a click away. If you don't have a mode of transportation or you live in an area where clinics aren't as accessible, you can still get the help you need.
Making mental health treatment more inclusive is a huge step forward.
Pro: Online Therapy Might Be a More Affordable Option
Many healthcare insurance providers now help to cover the cost of mental health appointments, even if they're online. But what about individuals whose plans don't include this? What about individuals who don't have health insurance at all?
Online therapy might be a feasible option for people who will need to pay out of pocket. For example, at the time of writing this blog, 7 Cups costs $150/month, no matter how many messages you send your therapist. Yes, it's still an expense, but regardless, it could help to ease the burden for those paying out of pocket.
Pro: It Offers Added Convenience
First, you eliminate any drive time. That right there makes online therapy more convenient than in-person therapy. Plus, there's usually more flexibility when scheduling these appointments, compared to an actual office visit.
If you need to squeeze in an appointment on your lunch break or while the kids are busy at soccer practice, online therapy makes it more feasible. It makes it easier to prioritize your mental health, which is undoubtedly something so many people struggle with.
Additionally, because treatment is happening online, you're not limited to therapists within driving distance. You have access to a far greater number of people. (This is also a potential drawback, so we'll revisit it in a moment.)
Pro: Online Therapy Offers More Flexibility With the Type of Communication
Some people are so uncomfortable talking about their mental health that they opt not to get treatment at all. And that certainly isn't the answer.
Online therapy often allows the option to text or email with a professional, as opposed to having to speak directly with them. Offering this service makes it just a little more comfortable for people seeking help who are experiencing extreme anxiety over it.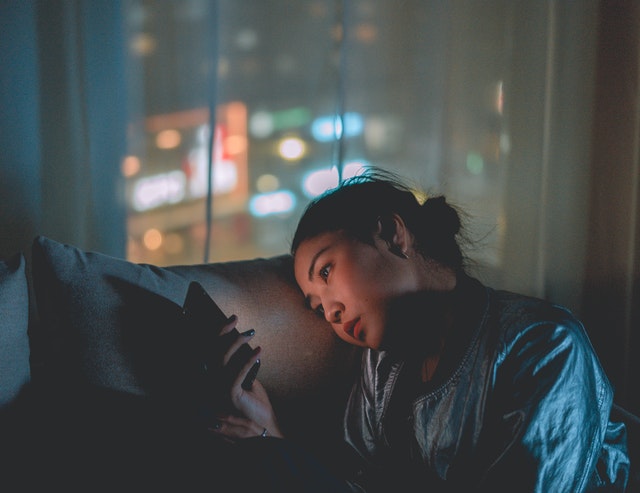 Con: Your Insurance May Not Cover Online Therapy
This can depend on the state you live in, the insurance company you go through, and your specific plan. While digital therapy is indeed growing in popularity, it's not exactly so widespread yet that it's very commonly covered. Talk to your own insurance provider and check all the fine print to see what your own situation is.
Con: Technology Isn't Always Reliable
Just like anything else in the digital world, online therapy is subject to the same glitches, bugs, and hiccups as any other web-based service. Is this a dealbreaker? Probably not. But it is a drawback that you won't experience with in-person visits.
Con: Privacy and Security Issues May Come Up
Because everything is going to be transmitted online, one must acknowledge security, privacy, and confidentiality. Will your information be safely stored? What is the service provider doing to protect their portal against potential hacks?
Confidentiality is always important with therapy, and even more so with online therapy. Taking it to a digital place adds a whole new layer of complexity.
Con: The Scope of Treatment is More Limited
While online therapy can work well for people needing more basic check-ups or check-ins with their mental health professional, it might not be suitable for people with serious psychiatric illnesses, who need more close and direct treatment.
Will online therapy be better than nothing? More than likely. But if you're trying to manage more complex mental health issues, it's important to understand that simply swapping out in-person treatment for online therapy might not get you the same results.
Con: Geography Could Present an Issue
The fact that online therapists can reach anyone, anywhere is a great thing. However, it also presents an interesting challenge. Many states have their own licensing requirements, meaning that a therapist who practices in one state might not necessarily be allowed to treat people in another state.
How is this accounted for when an online therapist has the world at their fingertips?
Before enrolling in online therapy, do your due diligence to understand how the platform selects therapists, and how they ensure that these professionals are sticking to their legal and ethical codes of conduct.
Con: It Limits Non-Verbal Communication
When you participate in online therapy, you lose that in-person interaction that you would otherwise get. Body language is largely diminished, and it's not quite as personal. Some people really benefit from sitting across from their therapist, so it's definitely a drawback to consider.
Just because there are more cons on this list than pros doesn't mean that getting therapy online is more bad than good. Rather, I encourage individuals considering online therapy to think of both the good and potentially bad, to help them make a more informed, well-rounded decision.